Meeting sponsors
All sponsor grants are unrestricted.
55th Annual Congress of the SCNP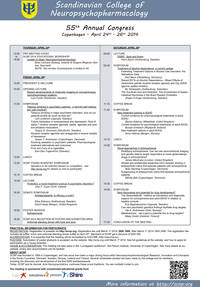 We are happy to announce that our 55th Annual Congress will take place in Copenhagen at the Copenhagen University, from April 24th-26th, 2014.
Young scientist symposium
Drugs in the pipeline
Probiotics in psychiatric disorders
Antidepressants. Is efficacy a myth?
Update on Schizophrenia
Treatment of alcohol dependence: a current update
Individualized therapy
Novel treatment targets and diagnostics in psychiatry
ADHD treatment: A 2014 update
The video presentations from the SCNP 55th Congress are here.