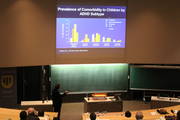 What is on this page?
During the 54th Annual Congress, all presentations were recorded.
On this page you can view the Congress presentations, that the speakers allowed to be made available for educational purposes.
It is therefore not all presentations you can view.
We hope you will enjoy the presentations from our congress.
If you have questions, please get back to us here.
NOTE: we are currently working on finishing all presentations for streaming. The content will be gradually updated.
You must log in as an SCNP member to view the content of this page.
Please log in here.